| | |
| --- | --- |
| Buttermilk Waffles | |
Good waffle recipes are surprisingly hard to find. Most of them say to use "waffle mix", or call for sugar to be dumped in. I consider this to be nothing short of blasphemy, so I decided to create my own recipe. It's very light and fluffy.
This recipe makes approximately fourteen 10 cm * 10 cm waffles.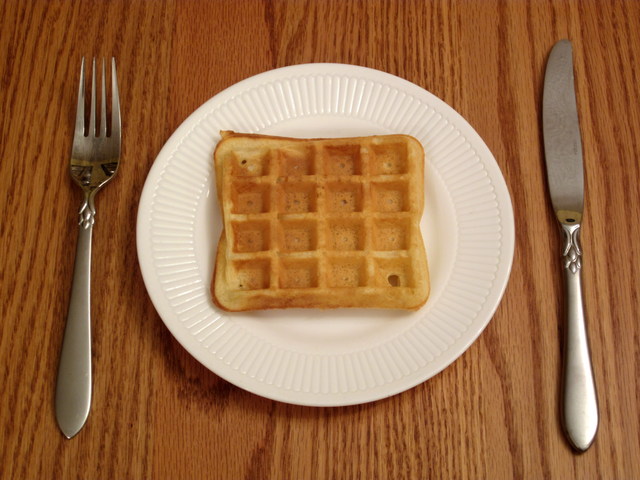 Ingredients
1.5 Cups flour
1 Teaspoon baking powder
1 Teaspoon baking soda
Pinch of salt
1.5 Cups buttermilk
4 Eggs, separated
0.5 Cups oil or applesauce
2 Teaspoons vanilla extract
Preparation
In a large bowl, mix the flour, baking powder, baking soda, and salt together. Add the buttermilk, egg yolks, oil (or applesauce), and vanilla.
In a separate bowl, beat the egg whites until stiff peaks form.
Beat the first batter mixture until smooth. Some cross contamination from the egg whites is acceptable.
Gently stir the stiff egg whites into the rest of the batter. Do not overmix.
Bitcoin: 1KEWmWK3Sn9ToEHxhXmoXax6ycNGgLMfLv